Digital Publications
ADMIRALTY Digital Publications (ADP)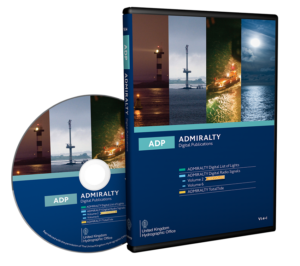 ADMIRALTY Digital Publications (ADP) are a fully approved digital version of the UKHO's paper Nautical Publications used by mariners around the world. ADP meets SOLAS carriage requirements and, depending on a vessels flag state, can replace the requirement for carriage of traditional paper publications. Poseidon Navigation Services Ltd is an approved supplier of ADP and offers the full range of titles which are listed below. The software is supplied on a single CD which requires an annual license subscription, and is designed to be used on a Windows PC.
ADMIRALTY Digital List of Lights (ADLL)
This is a digital version of the ADMIRALTY lights list, which comes complete with an easy to use graphical interface. The main advantage to having the digital version is the automatic application of updates, which substantially reduces the time and effort needed by the mariner to keep the list corrected up to date. Weekly updates can be received by CD, via our 'Challenger' software, or alternatively by downloading from the UKHO website directly. It is now accepted as a replacement for the paper version by various Flag States.
ADMIRALTY Digital Radio Signals (ADRS)
ADRS is the electronic version of the ADMIRALTY Radio Signals collection, covering Volumes 1 – 6 including pilot services, vessel traffic services and port operations.
The products are licensed annually as follows, and are available in 10 geographic regions:
ADMIRALTY Digital Radio Signals Volume 1, 3, 4, 5 (ADRS1, 3, 4, 5) – combined on single license.
ADMIRALTY Digital Radio Signals Volume 6 (ADRS6) – single license.
ADMIRALTY Digital Radio Signals Volume 2 (ADRS2) – single license.
These products form part of the ADP software, and are updated quickly and efficiently via email or CD every week eliminating the need for time consuming manual updates. ADRS is now accepted in place of the paper version by a growing number of Flag States.
ADMIRALTY Total Tide (ATT)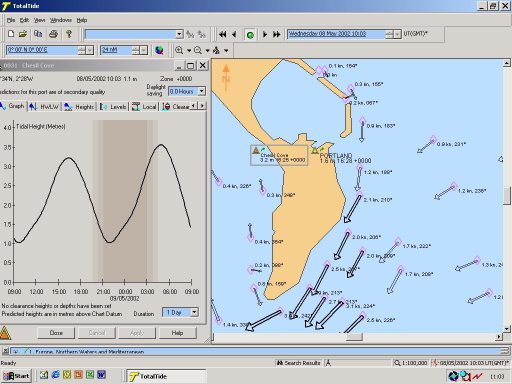 Total Tide is the digital version of the ADMIRALTY Tide Tables, making calculating tidal heights easy using a simple graphical interface combined with dynamic heights and curves that change over time, thus enabling the user fast, accurate tidal height and tidal stream predictions.
Total Tide automates the prediction process, reduces the possibility of user error and provides an easy means of viewing both UKC and safe overhead clearances. It contains tidal information for over 7,000 ports and more than 3,000 tidal stream stations worldwide. It is now accepted in place of the paper tide tables as carriage compliant by a growing number of flag states, and also includes tidal stream data.
ADMIRALTY

Electronic Nautical Publications (AENP)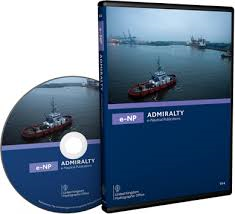 ADMIRALTY e-NPs are electronic versions of ADMIRALTY Nautical Publications, allowing crews to add NM updates faster and more accurately using a small weekly update file. The following e-NPs are available on a single DVD:
All 75 Sailing Directions, The Mariners Handbook, The Nautical Almanac, Ocean Passages for the World, Annual Summary of Notices to Mariners Part 1, Annual Summary of Notices to Mariners Part 2, ADMIRALTY Guide to the Practical Use of ENCs, Cumulative list of ADMIRALTY Notice to Mariners January, Cumulative list of ADMIRALTY Notice to Mariners June, How to Keep Your ADMIRALTY Products Up-to-Date, IALA Maritime Buoyage System, ADMIRALTY Guide to ECDIS implementation, Policy and Procedures, Symbols and Abbreviations Used on Admiralty Paper Charts, Admiralty Guide to ENC Symbols used in ECDIS.
International Maritime Organisation (IMO) Digital Publications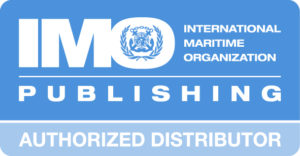 All the titles released by IMO are available as e-books. IMO Publishing e-reader is fully bookmarked, indexed and presented in ebk file format which is viewed using the free software "The IMO Bookshelf" or "Witherby Connect". The e-reader is a replica of the printed title. E-readers are available for major titles in English with some in French and Spanish. Once purchased, e-readers are instantly accessible and locked to a specific computer.
Witherbys

Flag State Regulations

 
Flag State Regulations are available on annual subscription, saving hours of searching, indexing, checking and correcting regulations issued by the IMO and flag State authorities. The powerful search engine utility, together with cross-referencing of documents and clear on-screen indexing facilities, makes this software essential for the shipping industry.
Benefits include:
Access your maritime publications and digital regulations together
Pick and choose relevant flag State regulations
Choose from over 600 industry titles available as eBooks
Use the powerful search engine to find key pieces of information and legislation
Export large grids of data
Copy and paste text and images
Print and add annotations
Create a favourites folder to store key titles and information in one central location for easy access
Letters of Equivalence and the IMO certificate are stored within the Reader software for inspections
Update through online synchronisation or USB/DVD
Dedicated account manager.
Purchasers of an annual subscription will receive a plaque to display on the navigational bridge to show that the vessel meets the requirements for the carriage of flag State material and publications in electronic format.
Witherby Connect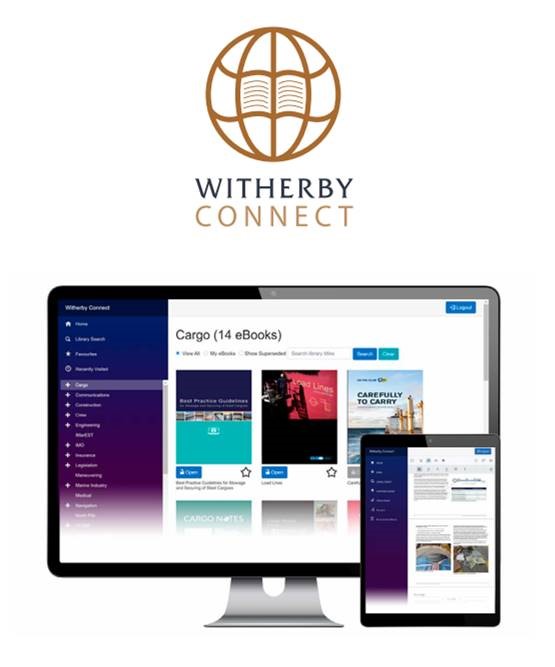 Witherby Connect is the online library solution for the maritime industry. Created by Witherbys' in house development team, Witherby Connect provides users with streamlined access to all major industry publications. The browser-based hybrid software means that there is nothing to install and after publications are saved to the browser cache they can be accessed almost instantly both on and offline.
The following features make Witherby Connect the ideal eBook reader for use in the maritime industry:
Cyber secure Designed with the new IMO requirements on cyber security in mind, Witherby Connect runs in the browser secure sandbox.
No installation required Witherby Connect is browser-based hybrid software, meaning that it runs in web browsers, yet behaves like desktop software, with absolutely nothing to install.
Portable Witherby Connect is not limited to one device and can be accessed on any computer or tablet that is linked to the internet.
Built with seafarers in mind Ships with download speeds as low as 0.3 Mbps can access Witherby Connect while deep sea.
Use on and offline Witherby Connect provides flexible access. Publications can be viewed while connected to the internet and are downloaded to the browser's cache for access offline, making it suitable for use even when internet access cannot be guaranteed.
Reduced bandwidth use eBooks can be downloaded in bulk in port and complex search is carried out online, reducing the size of the publications.
Comprehensive marine library Access all major industry publications and guidance, instantly and easily.